Data Manipulation
All available experimental data in the Toolbox is located in the "Data module". Along with the databases, this module contains and chemicals-rich inventories.
Databases – contain chemicals with ID information (CAS, Name, SMILES), experimental data and supporting information (metadata). The databases are grouped according to the data availability. If a database consists of data for different endpoints, the database will be located into more than one section (e.g. ECHA CHEM database)
Inventories – contain chemicals with ID information. No experimental data is available in the inventories.
More information for the databases/inventories (e.g. donators, number of chemicals/data) could be found in RESORSES.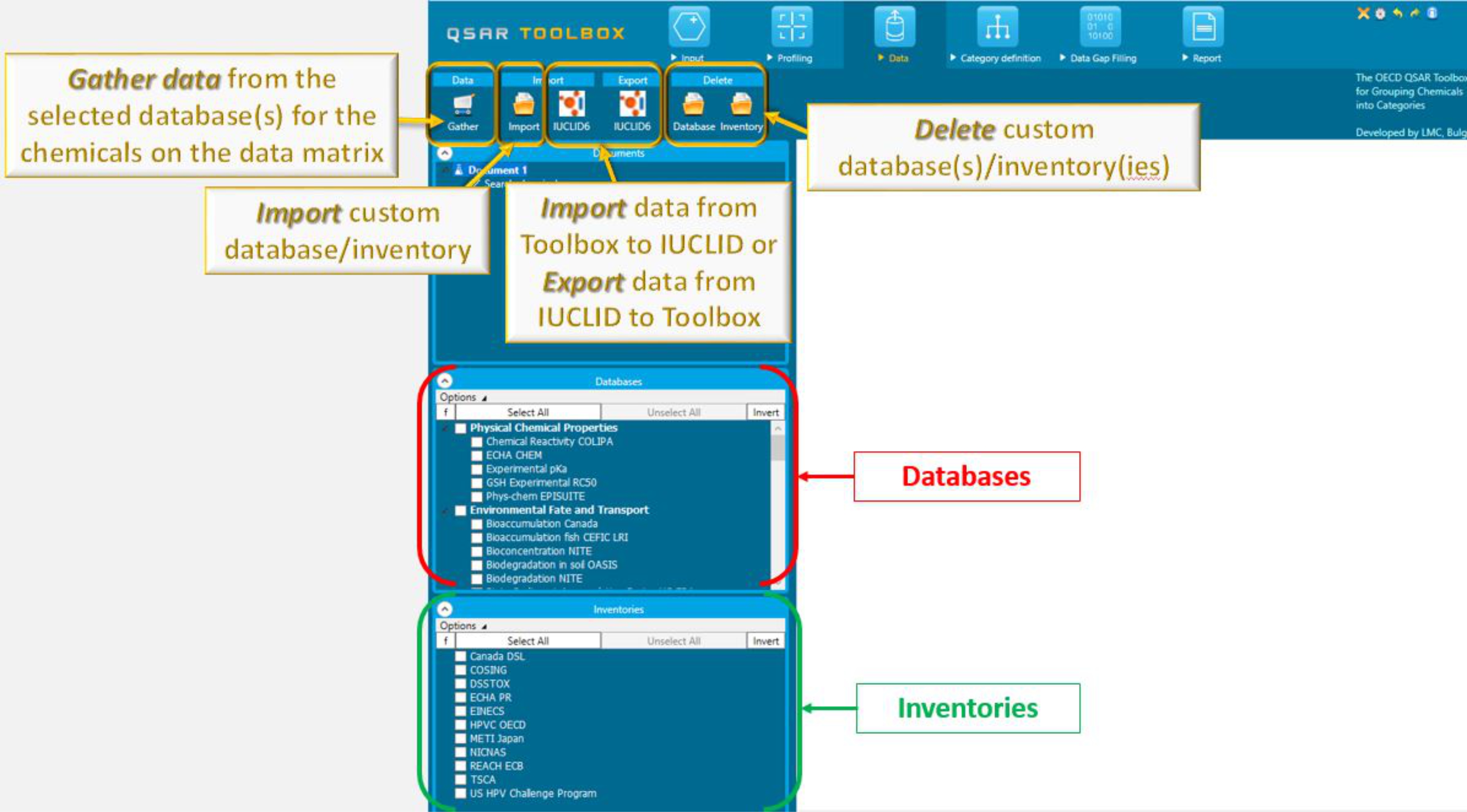 In the section the users are able to:

Check for observed data for their target chemical – If your chemicals has already been tested and the results are publicly available, you may not need to run any predictions. There are 57 databases available in Toolbox with almost 85 000 chemicals and 2.5 millions experimental data points.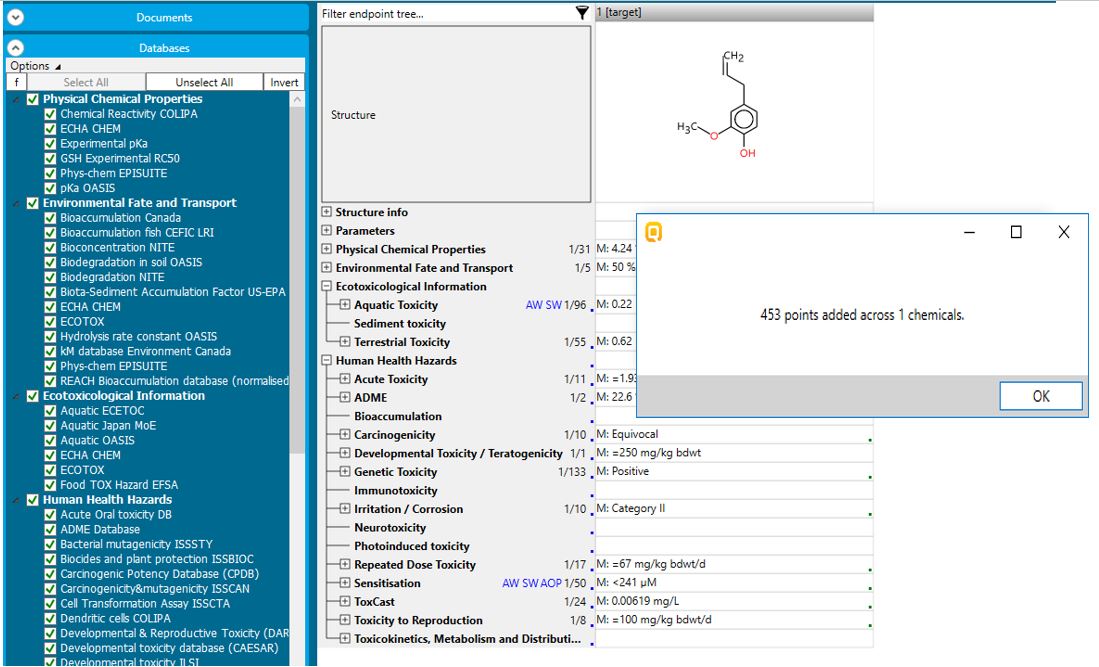 Import their own databases/inventories– if you have a database with new experimental data and/or an inventory with chemicals you could import them in Toolbox and to use them in the same way as the other databases/inventories. The imported custom databases/inventories will be only on your computer and will not be visible for other users.

Select databases for:
-searching for analogues for data gap filling – analogues to the target chemical will be searched only within the selected databases when define your primary category in Category definition
-searching of specific chemical(s)/data – you could select the databases where it will be searched for chemical(s) and/or data meeting specific criteria by using of Query tool

Transfer data between Toolbox and IUCLID – you are able to import a prediction from Toolbox to IUCLID or to export data from IUCLID to Toolbox.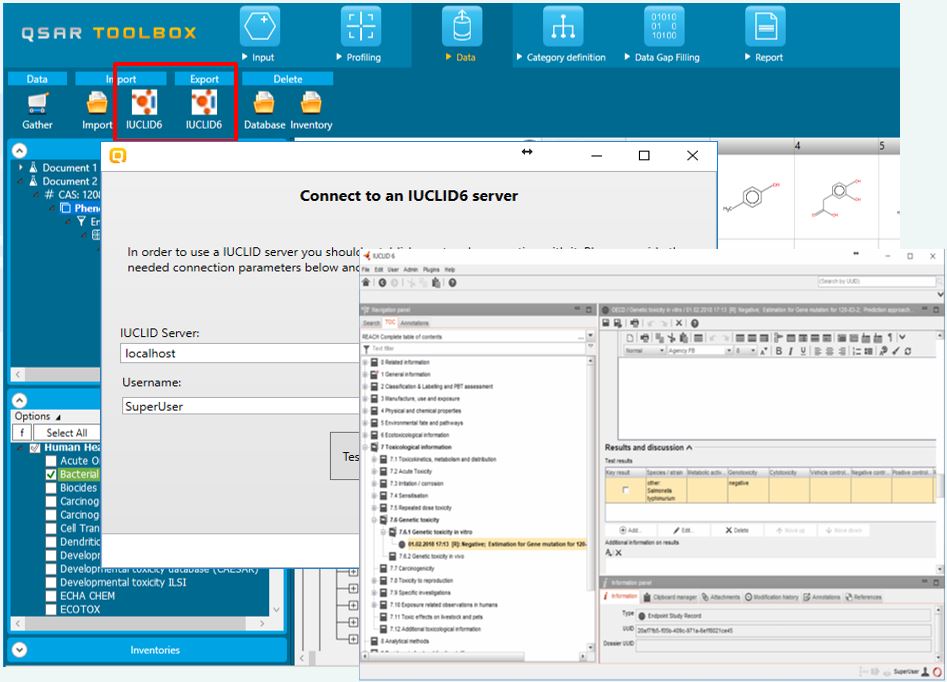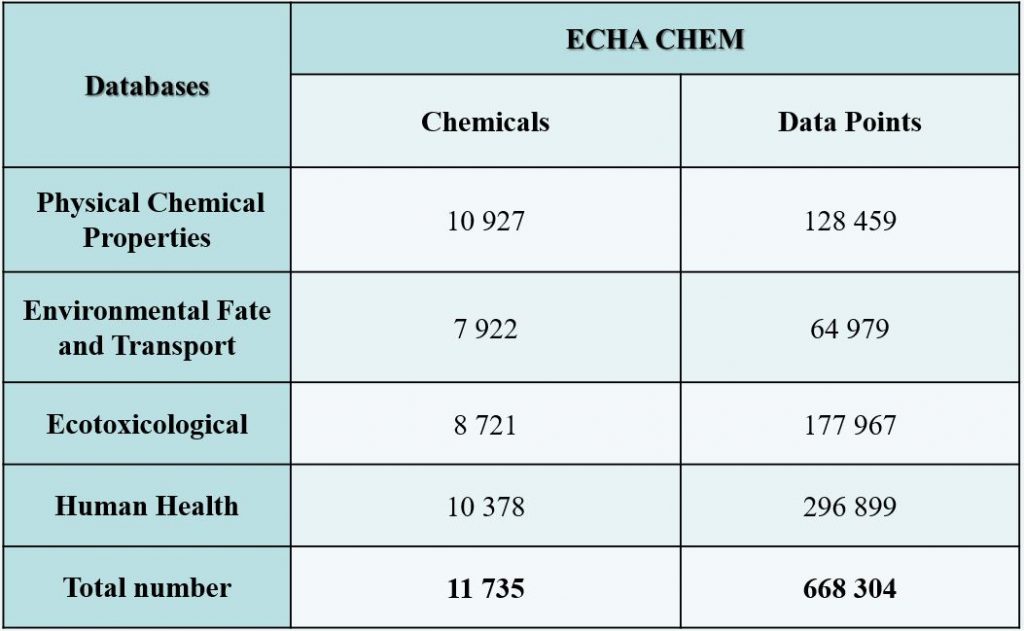 Use the latest version of EChA Chem database – The new version of EChA Chem database corresponds to IUCLID 6.2 and consists of 11 735 chemicals with 668 304 data points (REACH registration data up to November 2018). Across the endpoints with the most data available are aquatic toxicity (3 205 chemicals and 46 375 data points), irritation/corrosion (3 551 chemicals and 120 127 data points), sensitization (2 101 chemicals and 6 614 data points).